by Alecia Wright
Admittedly, I am not a festival-goer. I do love a good concert, but something about a weeklong festival (let alone camping in the desert) does not exactly appeal to me as a consumer. However, my personal preferences do not make the unique operations of Burning Man any less fascinating.
What is Burning Man?
Burning Man is a music festival that takes place in Black Rock Desert, Nevada – a dusty plane that transforms into a community for the annual event. Since the festival's inception in 1986, its popularity and attendance have grown every year. Latest figures show 66,000 attendees in 2014 and tickets go for $390 individually — which supports the running of the event.
Burning Man must be onto something, because past "burners" (participants) include Amazon.com founder Jeff Bezos and Google co-founders Larry Page and Sergey Brin.
What Makes the Festival Unique?
Hardly any advertising is done for the event, yet over 50,000 people attend. With a couple exceptions, nothing is for sale – rather, goods are exchanged as gifts.
Burning Man's unique atmosphere and costumed participants have caused it to be called "Disneyland for adults" and "a mix of Moulin Rouge with Mad Max."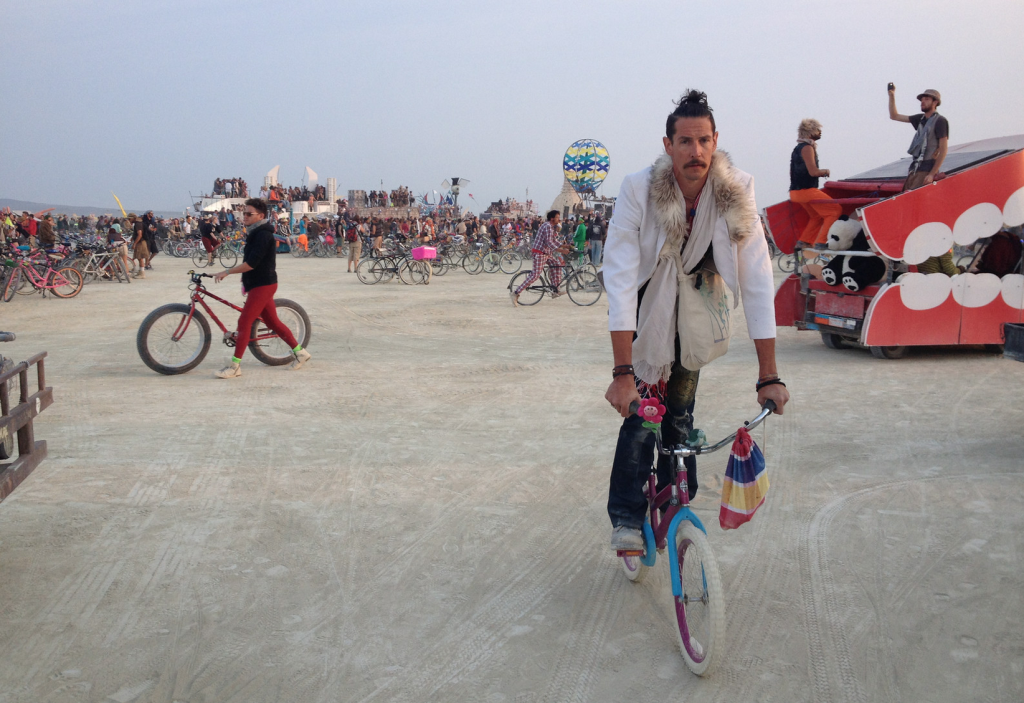 source: http://photos.dailynews.com/2014/08/photos-burning-man-2014-in-the-black-rock-desert/#41
So, what can marketers learn from this truly one-of-a-kind event, in which attendees come back year after year? This is the same premise behind marketing: to create loyal consumers to a brand.
Marketing Lessons from Burning Man
1. Make Customers Feel Valued
Burning Man organizers truly understand their customers and specifically organize events that they'd enjoy: art and performances, theme camp and village activities, fire performances, and drummers.
*Marketing Lesson: Interact with your customers to build relationships and get their feedback for your product/service to improve. After all, happy customers are likely to become loyal, repeat customers who recommend your product/service to others.
2. Back-to-Basics Promotion
Burning Man nurtures a grassroots and primitive atmosphere, encouraging conversation time and limited modern technology. Most attendees ride bicycles, and those with "mutant vehicles" (decorated cars) must be licensed.
*Marketing Lesson: Word of mouth is the original and preferred method of recommending products and services.
3. Gift Economy = Nothing is for Sale + Culture of Giving
What is a gift economy? "A gift economy is one in which services or goods are given without an agreement as to a suitable payment or trade to be made in return. Instead of monetary gain, gift economies often rely on intangible rewards like a sense of contribution, community, honor or prestige." In this way, people offer meaningful gifts to one another.
*Marketing Lesson: Giving or obtaining goods retrogrades back to the initial purpose of consumerism: to attain what we need or is meaningful. Marketers can emphasize the need their product/service meets, or how it can be thoughtful as a gift.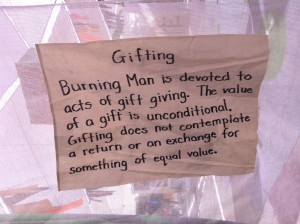 4. Connecting
Burning Man attendees genuinely take the time to get to know each other – most times perfect strangers. However, by the end of the event, there is a tremendous sense of community.
*Marketing Lesson: Develop a meaningful community behind your brand. For example, we all know Lululemon lovers who have created a culture around the brand and are passionate about the healthy lifestyle it promotes. Other brand cultures include the innovative culture of Apple, the fun-loving environment of Zappos, and the dedicated experience of Nike.
5. Creativity and Passion
Everyone involved in the event — from organizers to art designers to participants — is undoubtedly passionate. Organizers bring themes to life, designers create stunning architectural designs, and participants dress up in costumes.
See 50 stunning examples of design at Burning Man here.
*Marketing Lesson: Marketers must be dynamic and imaginative. However, try to remember that not all consumers "fit all." People want to be different and stand out, so give them a product that they can value.
A Question
When my Marketing Research professor posed the question to the class "Why are marketing professionals fascinated by this festival in particular?" I was stumped. "Because they're unconventional consumers?" I mused.
While my answer may be true, it was not exactly the answer my professor was looking for.
An Answer
Burning Man attendees are known as the French Consumer. What is a "French Consumer?" According to my marketing research professor, French consumers foresee trends before they become popular — an ideal target for a marketer.
Conclusion
In all likelihood, my professor is right. However, I do agree that sometimes the best way to study consumerism is to focus on unconventional groups' tastes and preferences because after a while, repeatedly studying Millennials can be boring. Every type of consumer has fascinating insights to uncover and market to.