Every hotel is unique, yet there are industry standards that we can use as travel and tourism marketers to answer the question "how much budget should we allocate to paid social ads?". Facebook ads (and other paid social media networks) allow hotels to directly message travelers with attractive, experience-based videos, images, and promotional offers. Social media marketing is a key part of the integrated marketing mix for hospitality businesses, which might also include local SEO, working with OTAs (or not), events, paid search, print / billboard / TV / PR / "traditional channels", cross promotional referral partnerships, and more.
In 2016, the Global retail value of the hotel industry was over 490bn USD. By 2018, that is expected to increase to over 553bn USD. Yet US Hotel Growth is shrinking. 2016 saw +2.1% growth when it came to hotel room demand, but by 2017, demand growth was forecasted at just +1.9%.
As we move into 2018, digital marketing generally and Social Media Marketing have become important flashpoints for consumers, who according to Deloitte, are looking for authenticity and personalization. They want to see 'experiences' and feel emotions as they look for inspiration and decide on their destination.
Nowhere is that more relevant than in paid social for hotel brands. By putting 'authentic' material in front of would-be consumers, you are able to generate awareness earlier in the path to purchase, and before buying intent has been established for that particular trip. According to Expedia, those on social media are open to be inspired as to where they might go at the beginning of the purchase path. Essentially, your ad or social media post can inspire a consumer to visit your destination.
However, if you just disappear after this inspiration, it's unlikely that you will have succeeded in using your digital marketing budget to sway that traveler to stay at your hotel. Due to this, it is now important to 'be everywhere' along that path to purchase. That means drawing consumers attention right from the inspiration stage, through the time they spend researching, to when they make their final booking decision.
This is especially important with the increasing dominance of mobile devices. In 2016, Expedia found that 75% of online travel audiences used mobile applications and that those users spent more time engaging with travel content than desktop users.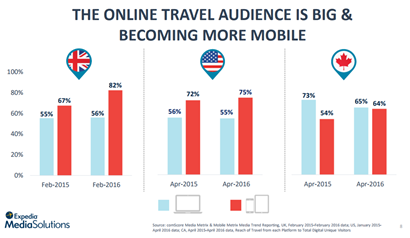 Ultimately, paid social ads help hotels protect profit margins by prioritizing bookings through a hotel's website directly. This bypasses online travel agencies (OTAs) and booking sites like hotels.com, priceline.com, and a myriad of others. With the addition of new alternatives like Airbnb, the already ultra-competitive landscape for hotels is tightening even faster than ever before. This article is all about providing guidelines on how much you should spend on your hotel's social media marketing to make sure to keep up.
How Much Budget Should Hotels Spend on Paid Social Ads?
There are over 50,000 hotel or lodging properties in the US, with a combined total of more than 4.6 million rooms.
That's a lot of hotel rooms, so to make things easier, let's break that down into three tiers based on the number of rooms a hotel has:
       

Tier 1: Hotels with Under 50 rooms

       

Tier 2: Hotels with 50 to 200 rooms

       

Tier 3: Hotels with More than 200 rooms
Why is the number of hotel rooms important? Because many hotel marketing executives use "per room, per night" ratios among total hotel revenue, the overall marketing budget, what percentage of that budget goes to digital, and finally, of digital spend, how much should go to paid social.  
A key metric for hotel brands is 'RevPAR', which measures the average income per hotel room, per night. The average in the US as of July 2017 is around $157.48. However, it really depends on the location and the hotel type. For instance, STR, Inc.'s most recent report sets RevPAR for September 2017 in Detroit, Michigan at just $65.67.
Unfortunately, RevPAR ratios and grouping hotels into tiers by number of rooms is not the be all and end all to answering how much a hotel should spend on social media marketing. Within each of the three categories above, there are many different types of hotels, and other ways of classifying them. Other possible classifications include Level of Service (four star, luxury, affordable) and Target Markets (airport, all-inclusive, business hotels). The best budget-setting exercises make sure to consider all three factors to create a baseline, and then use context specific to your hotel to ultimately set a monthly amount to buy ads on social networks.
For example, if you're in charge of marketing at the Four Seasons in New York, rooms start at $490, much higher than the industry average RevPAR of $157.48 in the US. Similarly, if you are trying to determine the hotel social media marketing spend of a small hotel in Michigan charging just $63 per room per night, you're going to find that it's less.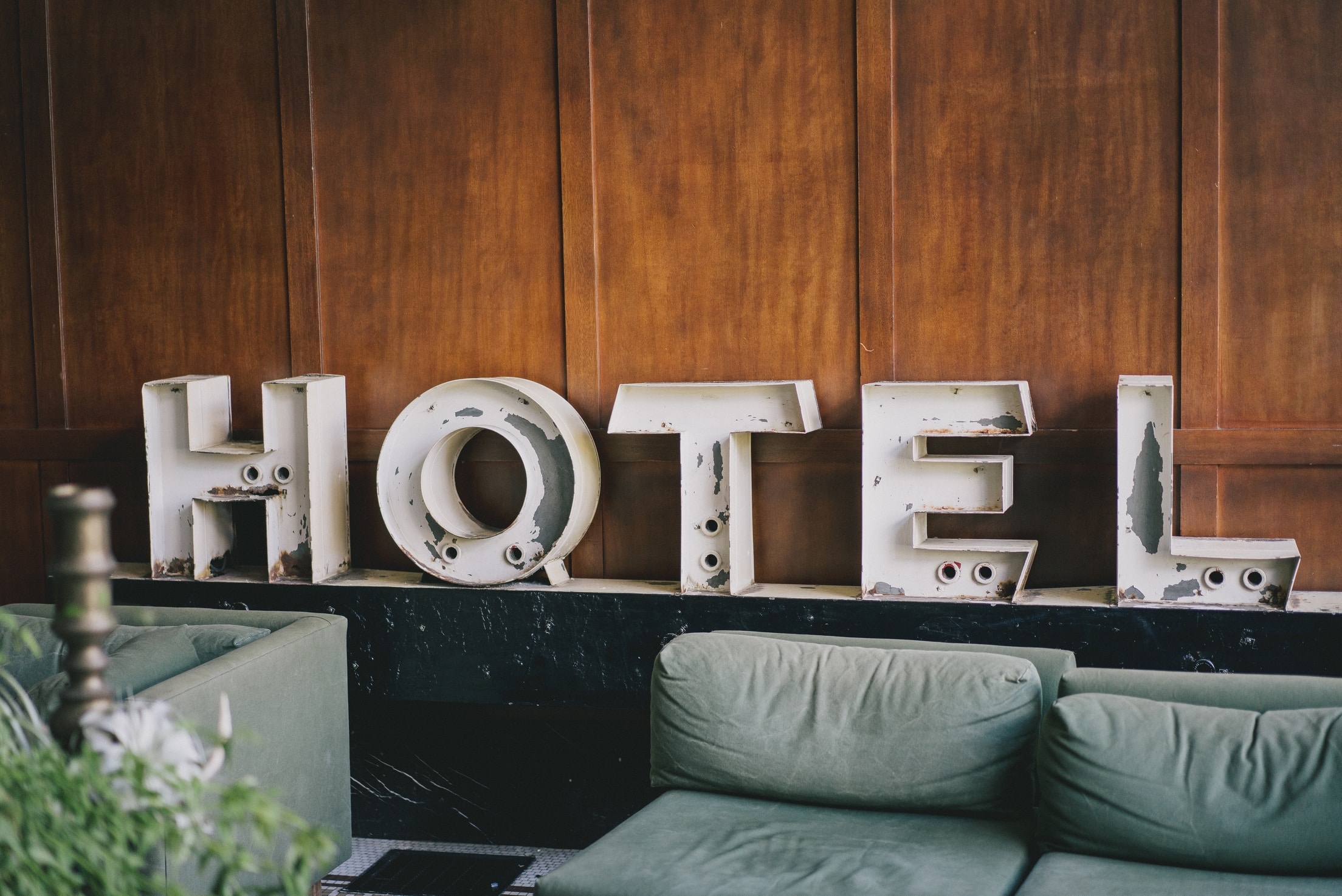 Tier 1: Hotels with Under 50 Rooms
Hotels with under 50 rooms will usually be smaller, more local establishments. Sometimes they are referred to as Boutique hotels. Take, for instance, the Huron House Bed and Breakfast in Michigan, with just 14 rooms. Alternatively, you could look at the  The Inn on Ferry Street, also in Michigan, yet with a slightly higher 40 rooms.
Both of these establishments engage in creative marketing ideas for hotels which involve fostering a 'local' and more 'personal' feeling. For instance, this social media post about their homemade Oreo Cheesecake by Huron House.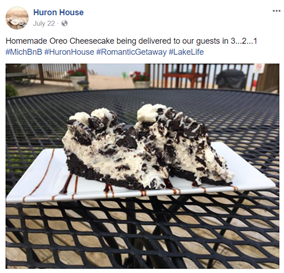 If you're someone trying to develop social media for small hotels, then you should nurture and grow this "local" feeling. It is a great way to encourage that authenticity and personalization we talked about earlier. Social media profiles on networks such as Facebook, Twitter and possibly Instagram can be used to promote local activities and events.
Paid Social Media for small hotels is often entails spending around $20 – 40 at a time for boosting individual posts.  There doesn't need to be too many boosted posts, although at least one every other week is a good start. We've also found that it's good practice to share any important events or initiatives as well so you can focus your paid posts on your most impactful messages. This can sometimes include those which aren't yours.
A good hotel social media strategy can be to also try using more natural and organic posts to keep the conversation going between paid posts. Within these posts, you can tag other local businesses and support them, thereby leading to a synergy within your neighborhood. This also helps to develop consumer networks which follow you. For instance, The Inn on Ferry Street's post below promotes an event while also promoting themselves as a place to stay.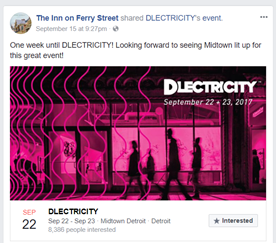 The key to success here is ongoing and consistent engagement. If you're managing social media posts for a small hotel, it's important to keep your community engaged. Engage comments, don't delete them. However, it is common practice on Facebook to 'hide' worst comments (while also responding directly to them).
Reports and industry analysis suggest that hospitality digital marketing spend is around 2 – 3% of revenue per room. Of that, around 12% has been known to be spent on Social Media. Using the US average of $157 RevPAR, that's a little over $0.50 per room, per night that should be allocated to paid social.
However, with the ability to target posts and the potentially much smaller audience and room fill requirements, lower spends on social media are common in Tier 1. Your average cost per click can be as low as $0.20 with the right definitions put in place, so small spends can go a long way for more boutique properties.
That possibility of high efficiency "bang for your buck" to increase demand means that it may be a smarter idea to increase that spend. In a report compiled by HSMAI (The Hospitality Sales and Marketing Association International) back in 2015, they indicated that social media channels were more effective for driving brand awareness and generating leads for small hotels than for large hotel chains. That might just present an opportunity for you.
For example, if you're a smaller hotel with just 14 rooms and a nightly room rate of $266, then you should aim to spend around $335 per month on social media marketing. If you're a larger Tier 1 hotel with 40 rooms, yet a smaller nightly rate of $153, our ratios would suggest that it's better to budget around $551 monthly.
Tier 2: Hotels with 50 to 200 Rooms
It's likely that hotels with 50 to 200 rooms have more services than those offered by hotels with less than 50 rooms. They may offer all-inclusive getaway options and their restaurants and spa services may be visited by those who aren't guests.
Take, for instance, the Kellogg Hotel & Conference Center located in East Lansing, Michigan. With 160 guestrooms, it definitely qualifies as a Tier 2 hotel, yet it also comes with an attached conference center and an award-winning State Room Restaurant.
In our social media for hotels case studies, we generally found that Tier 2 hotels have an advantage over Tier 1 hotels. This is because they are able to scale their social media marketing efforts horizontally, as opposed to solely vertically. This means reaching out to customers with other services they offer, such as a restaurant, spa, or conference center.
This can help to increase the feeling of personalization for consumers on social media. For instance, the Kellogg Hotel & Conference Center makes use of social media posts which promote events taking place in its conference center. Those events are targeted at certain individuals, not everyone.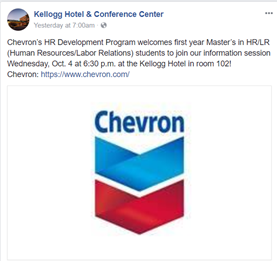 Towards the lower end of Tier 2, a good social media marketing strategy for hotels in this tier is to boost individual Facebook posts by around $40 – 70 per post. Posts should be boosted at least twice per month, although once per week is much better.  If you want to run one of the best hotel social media campaigns you can, you should also invest in online social media promotions, sharing local attractions and events. You are also encouraged to use small ad campaigns to attract new members to your community.
If you're towards the higher end of Tier 2, however, and spending closer to $5,000 per month on social media marketing, you're probably going to focus on more advanced techniques. Bigger budgets can be invested into targeting specific demographics, along with higher production values for advertising material material, and better horizontal integration. It's always a good idea, for example, to target previous customers from campaigns targeting first time visitors.
For example, the Viceroy Chicago offers a total of 180 rooms, and provides guests with a bar/lounge, a rooftop terrace, an outdoor pool, and two restaurants. This allows for several methods for horizontally expanding their Social Media Marketing efforts.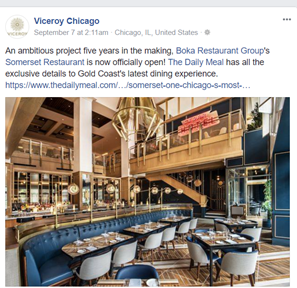 Consequently, while the percentage of RevPAR spent on social media advertising is consistent for Tier 1 and Tier 2 hotels, budgets still tend to go up for lager properties. This isn't just because of the extra rooms and revenue available.  
The extra services offered by Tier 2 hotels mean that RevPAR can be replaced by total revenue available per room (TRevPAR). This isn't just revenue drawn from guestrooms, but from any services the establishment offers. While RevPAR in the US for July 2017 was $157.48, TRevPAR was $234.20.
If you're on the lower end of Tier 2, with just 70 rooms and a nightly rate of $150, expect to budget just over $1,000 monthly on paid social. If you're towards the top end, however, with 180 rooms and a nightly rate of $350, you can expect to allocate around $5,670 per month. At this higher range, you should have an in-house expert on paid social and / or an agency to assist in driving ROI and direct bookings with a $5000+ monthly ad spend.
These figures, however, can continue to increase. For example, as part of a more upmarket hotel chain, the Viceroy Chicago is able to integrate its marketing strategy with other Viceroy hotels to increase brand awareness and maximize conversion.
If your Tier 2 hotel is part of a chain, you probably have a specialized digital marketing team or agency running your paid social account. Social media marketing can be spread out and earnings from each hotel combined. For example, if you have 10 hotels with 150 rooms each, and each of those rooms has an average RevPAR of $150, you actually have a combined monthly budget of $20,250, and spreading efficiencies across your properties may cause you to decrease that number. As always, you should calculate how many new bookings are coming in due to that spend and do your best to figure ROI.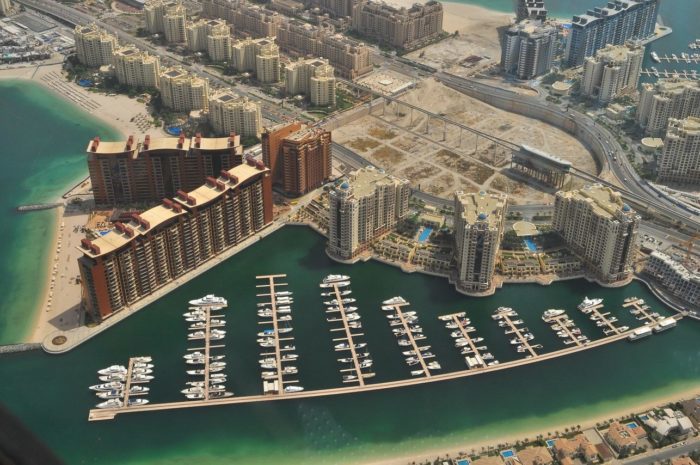 Tier 3: Hotels with More Than 200 Rooms
Hotels with more than 200 rooms are often chain hotels with several locations. They likely have a longer history and can be much more 'ingrained' in the market than smaller competitors. A good example of this might be Hyatt, who have over 660 hotels worldwide and are already a well-known brand.
At this size, hotels like Hyatt are able to dedicate much more money to their advertising spend. Large hotels also need social media in order to raise and maintain brand awareness. It's incredibly important to maintain many different consumer-facing marketing techniques to attract new consumers and retain old ones.
At this level, multi-national hotel companies are aware of the Lifetime Value of a new customer and how improving retention improves LTV. Ultimately, a savvy hotel CMO will strive for a clear measurement of LTV, what it costs to acquire a new customer, and retention to keep their marketing campaigns profitable.
Hotel social media marketing ideas will likely include high-production video campaigns paired with deep analytics. After all, video is one of the best media types for communicating 'experiences' to consumers.
If you happen to be a VP of marketing at Hyatt, with such a large consumer base already in place, you are likely to have a fairly substantial pool of data from which to draw information. You can use this data and analyze it to then target similar consumers by setting definitions on Facebook.
This means you can then create "Lookalike Audiences"; essentially, a way of segmenting the market and directing your hotel at consumers who share traits which are similar to those who you've already connected with. We've talked about this before, and we've found that it really works to help boost conversion rates and to improve ROI.
For larger hotels with cheaper room rates, social media marketing techniques are probably going to be a lot different. Take the Motel 6 Chicago, where room rates are just $50 per night compared to the Viceroy Chicago's $252 per night.
Direct adverts will aim to attract different audiences and for different purposes. Experiences should focus on events nearby and highlight the value offered by the hotel. Research into suitable target consumers is again essential and more than worth the investment.
Regardless of which type of hotel you market, you should use a combination of a internal marketers and outside agencies to create the best hotel social media campaigns. All online and offline channels of information should be integrated and focused on the traveler.
At the Tier 3 level, you will likely have a lot to consider when it comes to deciding what percentage of RevPAR you will spend on Social Media Marketing. The Motel 6 Chicago is towards the lower end of Tier 2, with a total of 222 rooms at $50 per night. That means owners would likely budget just $999 monthly towards social media spend. At the higher end of single properties, for instance, in a hotel with 820 rooms each costing $395 per night, paid social spend should be in a range of $29,151 per month.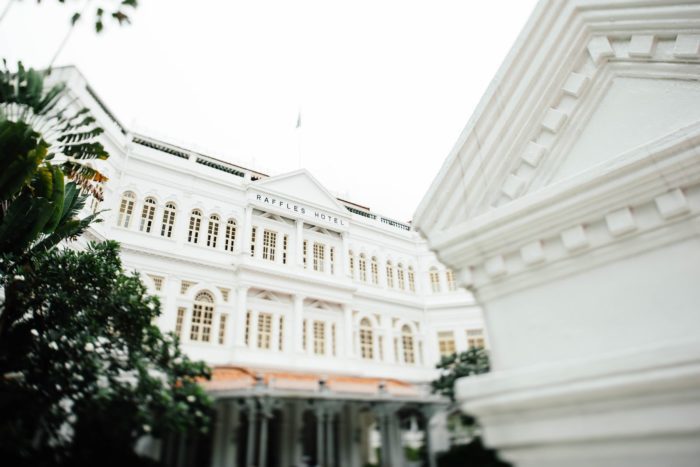 Facebook is a Paid Ads Platform
No longer is it enough to just post content, respond to comments, and hope for the best. After all, we all know that organic social media reach on Facebook is practically nil.  This means that, now more than ever, if you want to reach potential customers then paying for ad reach can make a huge difference.
Investment in market segmentation research is a great way to do this. By understanding your market, you'll be able to precisely target those who are may not even be looking for your hotel, or even know it exists. Paying for ad spend means greater impact, knowing where to direct that money means that even more.
Hospitality spending on Facebook Ads
To review, research shows that the average hotel social media marketing budget is around 3% of a hotel's annual revenue. Of that, only 12% is spent on Social Media.  That means that the US average for hotel spend on Social Media marketing is $0.56 per room, per night.
Obviously, this number changes depending on several key factors. Seasonal variation in revenue or key annual events will have an effect on your marketing budget, and the success of your hotel will also influence it. It's important to take the figures suggested above and use them as a baseline; one which can be customized based on the performance, growth, and circumstances of your hotel.
That being said, based on trends over the past few years, it's more than likely that social media consumption will continue to increase. Combined with a decline in organic social reach and the fact that demand growth was already shrinking as we headed into 2017, it's important to make sure that when deciding where to spend money on a hotel's social media strategy, you consider how to maximize your audience and how to make sure that they interact with what your hotel is putting out there.
To that end, if you're a Tier 1 or Tier 2 hotel owner or marketing manager, it might be worth considering investing a budget of 3-4% of your annual revenue for social media marketing.
For larger Tier 2 and Tier 3 hotels, as little as 1% of annual revenue may still be spent on paid social for hotel brands. Yet it may be a good idea to invest more money in audience research and market segmentation so that your social media marketing budget goes as far as possible.
The devil is in the details.
(PS: Now that we have baselines for "how much?", you might be wondering "how to?". Here is a post on how to optimize Facebook ads for hotels up and down the funnel.)