Determining how much a credit union should spend on social media marketing has become a major question over the past few years.
Coming into 2017, credit unions have seen steady growth in membership over the past 12 months.
Despite there actually being fewer credit unions opening around the country, mostly due to mergers and acquisitions, membership numbers continue to increase at a rate of 4% annually.
As millennials increase their spending (and hopefully, saving) power, they hold the key to making this membership growth sustainable for years to come.
The best way to reach this demographic is through digital channels. And this is seen in the trend of credit unions revamping their digital presences through new website design and more focus and interest in social media marketing. This includes creating a dedicated social media budget for credit unions.
But simply posting a status on Facebook won't be enough; there needs to be a coherent digital strategy to win over the audience's trust – and business.
According to CU Insight, 95% of adults aged 18 to 34 are likely to follow a brand on social media. This stat alone should be enough for every credit union to create and manage a social media profile on every social network.
Creating a social media profile is only the beginning of what a credit union should do for digital marketing.
Creating and sharing valuable information is a great way to stand out from the rest of the credit union crowd. In that same CU Insight study it said, "Seventy-one percent of consumers who have had a good social media service experience with a brand are more likely to recommend the brand to others."
So a credit union having a strong social media presence not only helps win over new customers, but actually can act as a multiplier and bring in future referrals.
Depending on the credit union's size and goals, that will determine what areas should be the focus and how much social media marketing budget the credit union should have set aside for the year.
How Much Should Credit Unions Spend on Social Media Marketing?
Let's break it down into three tiers based on the size of assets a credit union has:
Up to $50M in Assets

Between $50M+ and $150M in Assets

$150M+ in Assets
There are over 6,000 credit unions in the country that range from a single branch location to large national brands that most people have heard of.
Regardless of size, there are still a few basic digital marketing tactics to be aware of when determining a credit union's social media budget. These can be done at little to no cost for beginners.
Of course the larger credit unions, with more substantial social media budgets, should be seeking more advanced methods to grow their membership base.
Tier I: Social Media Budget for Credit Unions Under $50M in Assets
Credit unions of this size range in size from a few hundred members to a few thousand.
Typically they're local credit unions, or possibly a small regional brand with a few branch locations.
At this size, a credit union's social media budget can remain pretty simple – mostly focused on managing social media profiles to connect with their audience and participate in the community.
Many credit unions are highly involved in their communities, from sponsoring events to volunteering in the neighborhood, they usually ingratiate themselves to those members that live nearby.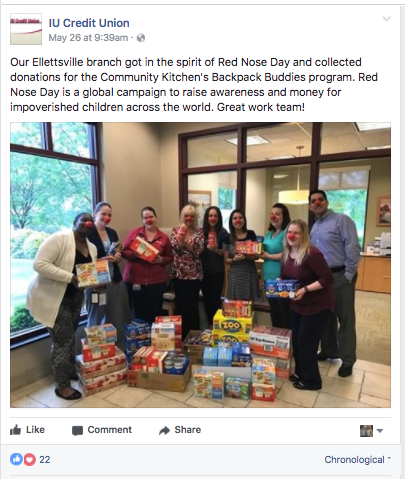 In order to be better known for the good that they do in the community and to gain a broader reach, it is essential that the credit union create social media profiles for Facebook, Instagram, and Twitter.
That's the bare minimum.
Some credit unions' social media strategy include other networks like Snapchat and Pinterest.
Being active on these networks gives the credit union an outlet to inform their members, and prospective members, about the type of work they're doing in the community – and to invite them to join with them next time.
A credit union of this size is unlikely to spend much on social media, but it would be wise to set aside a low dollar amount where they could boost a particular post a few times throughout the year.
This can be done for $10 to $20 or $100 a post. Even if this is only done for one or two marquee events a year, it would be well worth the small ad spend.
The benefit of boosting a post is extending a credit union's reach beyond just those who have already 'liked' the page.
Using some simple targeting, you can create an audience of people whose friends have liked the credit union page:

Add in the proper geotargeting, and you'll be broadcasting your post to people similar to your members that are in your area.
The two instances to use this as a credit union social media marketing strategy is to share information about a community event or to invite new prospective members to a future event.
Once the credit union social media profile is active, be sure to maintain it well and to respond to those who engage with your posts.
The whole reason to set up the credit union's social media profiles is to actively engage and respond to people when they're talking about your brand.
If comments are going to get ignored, having a social presence could actually work against you. So designate a person or a small team to handle incoming comments or engagements.
A Facebook profile is a great way to notify people about the large community role the credit union plays, but part of the community involvement has to be ongoing engagement with those that live there – both at events and online.
In this asset range, the credit union marketing team is probably a one-person job where they're also focusing on other traditional forms of advertising.
Tier II: Social Media Budget for Credit Unions Between $50M and $150M in Assets
This sized credit union likely offers more services than the ones previously discussed. It's highly likely that these credit unions have multiple branches and a near certainty that its members have access to ATMs.
The membership numbers for this sized credit union ranges from about 5,000 members up to 30,000 members.
These credit unions will have a more substantial social media marketing budget at their disposal and have likely already started to eye transitioning their traditional marketing dollars into the digital world.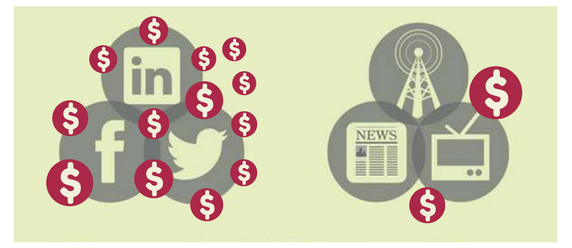 Similar to before, it'd be smart social media marketing strategy for the credit union to have a budget for boosting posts about their community engagements in addition to some small ad campaigns.
The difference between a boosted post and a true Facebook ad is that a boosted post is done with something the credit union has already posted organically.
Boosting a post simply extends the reach beyond its normal limits.
A Facebook ad campaign, however, can be targeted to anyone on Facebook no matter their connection to the credit union.
For the boosted posts, the credit union should budget $50 to $100 per post. Since there is likely to be a larger potential field of members, the credit union needs a bit more juice in order to reach all of them.
In addition to these smaller boosts, a credit union should designate a handful of larger events throughout the year to put a more substantial budget behind.
This might be a festival that they're a sponsor of or a community organization that they lead.
A social media budget of up $500 for each of these events should be enough to raise awareness, generate interest, and ultimately drive visits to the event.
When creating a Facebook campaign, it would be most effective to promote strategic products such as loans and mortgages.
A credit union typically has a big advantage over traditional banks in offering lower interest rates on these loans, so this is oftentimes the key message to promote to potential members in the area.
Credit union's social media marketing strategies should make good use of Facebook's targeting tools and look for people that are not yet members of credit unions and might be looking to open another line of credit, for example: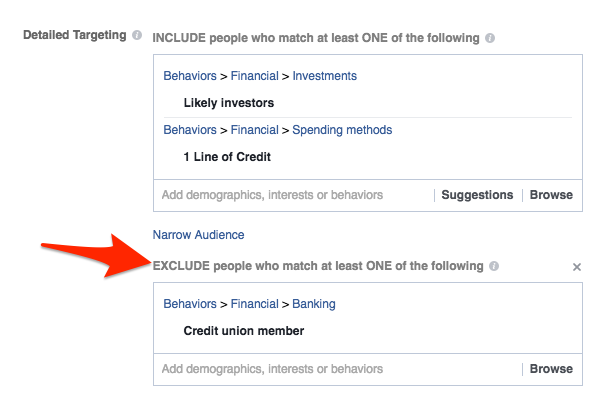 In this example, a credit union could run a campaign to people in their area who are likely investors with only 1 line of credit. Also notice that you can exclude people who are already credit union members.
This can be done with even more precision through the use of Custom Audiences and using the data that a credit union already has from its members.
In our discussions with credit unions in the $150M Asset range, they've typically reserved $50K to $80K as a digital marketing budget for the year.
As a more creative social media strategy for credit unions, they should consider partnering with a local business for cross-promotional opportunities.
This should be a local company that does its banking at the credit union.
Cross-promotion is a great way to get a message across to a new, but related, audience as little to no cost.
It also has the added benefit of demonstrating to the community that the credit union truly does stand by its members.
Credit unions of this size are likely to have a small marketing team with no single person solely focusing on digital marketing ad spend. However, this trend is changing as credit unions continue to change their marketing mix to invest more heavily into social media marketing.
Tier III: Social Media Budget for Credit Unions Over $150M in Assets
This is where paid social media marketing strategies for credit unions can get fun!
Credit unions of this size tend to be regional or national and can have more recognizable brand names, like Navy Federal Credit Union.
They have many locations and their membership numbers are in the tens or hundreds of thousands, if not more.
At this size, there should already be a pretty substantial marketing budget set aside. And if you're here, you already know that more of that should be saved for social media strategy.
In the conversations we have with larger credit unions, it's typical for them to expect to spend $150K+ for year on social media marketing.
At this size, credit unions are also often looking to partner with an agency where the agency can share the necessary expertise and focus with the credit union marketing team.
Agency fees vary depending on the scope of the project. To get the most out of the relationship, it's best to partner with people who won't stop at merely managing campaigns but will also serve as strategic partners helping formulate the credit union's digital marketing strategies for ideas to execution.
Fees for this can start at 40K for the year and will continue to go up as the work gets more complex.
With this larger budget, the credit union can have a multichannel digital marketing strategy and get a lot more detailed in how they go about promoting their business.
As mentioned before, these credit unions should still boost select posts – albeit at a much larger budget since they'll want a wider reach.
But that's really just the basics. How much social media budget a credit union has will determine how intricate the tactics can become.
Credit unions should take advantage of Facebook's targeting options to find people most similar to the members they already have.
This can be done by creating Lookalike Audiences based on a membership database that can be securely uploaded to Facebook.
The algorithm takes over from there and determines an audience that is the most similar to those people who are already members.

Moving beyond boosting a post, credit union can develop a video marketing strategy to appeal to their audience.
As community involvement is often a core component of a credit union's brand, this video can be created to show off what the community means to them and the various ways in which the credit union gives back.
Promoting this video on Facebook is an effective social media strategy because videos get the most amount of engagement.
And even better, it can be placed at the top of the marketing funnel just to raise awareness of the credit union to new prospective members.
From there, you can create a new Custom Audience of those who watched at least 50% of the video:

The reason credit unions should do this is because it creates a new audience of only those who were the most engaged when viewing the video the first time.
If someone takes the time to watch 50% of a video, it means they have some level of interest and then become a warmer market for you to introduce your brand and services to in the next step of the funnel.
An often overlooked aspect of the social media strategy is the landing page.
Yes, a credit union's social media budget is generally thought of as the ad spend used for creating and distributing the ads.
But that's not all there is to it.
There should also be a dedicated landing page to send the traffic. Something that is tailored and specific to the information they just viewed on the ad.
So if a credit union runs a campaign about its consumer loans, the landing page should be more information about consumer loans and why this credit union is the best option for them.
And of course, this page needs to be mobile optimized for conversion.
In this larger asset class, credit unions might have a team of 5 or so marketing members, with one person's sole focus on digital marketing strategy and execution.
Credit Unions Need a Social Media Budget
No matter what bucket your credit union falls into, it should be clear that it is now necessary to have a clearly defined social media marketing strategy for the credit union.
Even if it means putting a few dollars behind a post now and then, it can pay off in big ways down the road.
For the larger credit unions out there, a consistent and methodical digital marketing strategy can be the most effective customer acquisition strategy available.
It can result in a predictable flow of membership openings and create a lot of brand equity in the community.
A good rule of thumb is to spend 4% – 7% of revenue on marketing. And of that, a credit union's social media marketing budgets should be increasingly growing year to year.
For now, we recommend allotting ⅓ of a credit union's marketing budget for social media channels. This is a good place to start to build an audience and collect data while ramping up for larger digital ad spends in the future.
Credit unions have a lot of inherent advantages over large, national banks and social media marketing is the most effective way of communicating that to its prospective members.