Market Segmentation Using Facebook is one of the most important tools in any digital marketer's toolbox. With the right know-how it can net huge benefits and increases to ROI, while allowing you to build reliable mental models of your audience(s). 
What exactly is Market Segmentation?
Segmentation is essentially when a much larger market is narrowed down into different, smaller groups. Those groups are known as segments and they can be combined, narrowed down further, analyzed, and more. Your goal is to craft effective messaging which resonates with each segment, either individually or collectively. Seems easy, right?
Not exactly.  The problem is that a business has to first decide which segments they should actually target. Facebook has become a huge advertising platform. As digital marketers, we need to analyze classic audience segmentation concepts and find out how we can execute market segmentation using Facebook ads and Facebook Insights.
But how do you find the right Facebook segmentation strategy?
This article will break down the different methods for market segmentation using Facebook available today. Not only what they are, but also how to implement and find them successfully on the Facebook ads platform.
We'll also be using the hotel industry to look at market segmentation in more detail. Hotels can be divided in many different ways: Level of Service (four star, luxury, affordable), Target Markets (airport, all-inclusive, business hotels), and Size are just three of them. This makes them a great example. We'll look at how market segmentation can help us to identify the correct target audience and boost the effectiveness of Facebook ads for specific types of hotels.
We'll also use real life examples from our work via a New Balance case study.
To wrap up, we're going to look at creating custom audiences through these techniques. That's how you can use your own data in creative ways to build custom audiences (including lookalike audiences) for different market segments.
But first, let's go back to basics: 'marketing 101'.

Geographic
Geographic segmentation is pretty simple. You segment the market by country, region of the country, state, neighborhood, zip code, or even more general characteristics like rural/suburban/urban. Some easy examples on how on a firm can segment geographically include:
(a) Hotels can market their ad strategy towards those who are looking at a certain destination. One segment might aim to target those who "live out of town, but have stayed with us before", whilst another segment might market secondary services such as a hotel restaurant or conference hall at those who live more locally.
(b) Running ad campaigns in specific areas when they are relevant to only a particular culture or group. For instance, if a football game will take place and you are looking to draw in visitors who have come to support the other team, you can target ads at people who live in the opposing team's city, support the team, and travel frequently.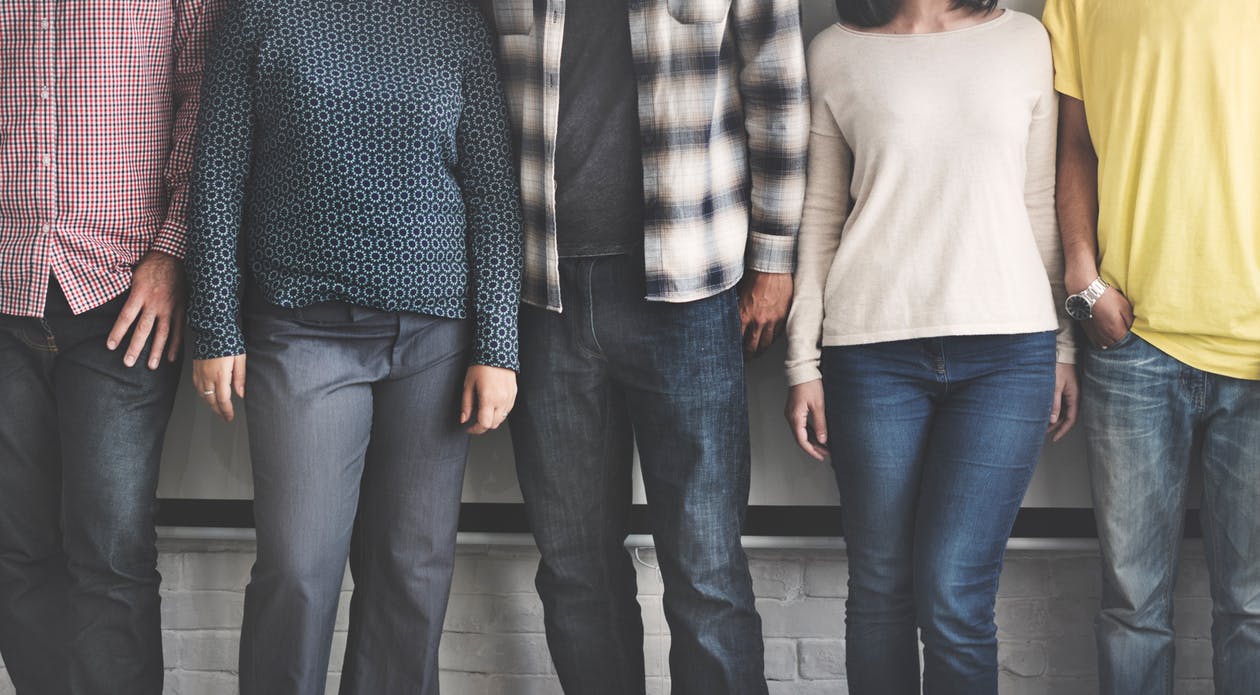 Demographic
Demographic segmentation refers to dividing the market into groups based on variables such as gender, age, income, occupation, family size, education, marital status, ethnicity, and more. We can identify trends which are more likely to be inherent to certain demographics. For instance:
Gender: Different types of hygiene products for men and women. Ex. Shampoos, hairsprays, deodorants.
Age: Different types of cereals, vitamins, and games for young people vs. older people.
Ethnicity: Specific cosmetics and hair products for African-Americans, Asians, and Caucasians. Along with that could be different types of entertainment.
Income: Luxury cars for high-income individuals; restaurants that cater to high-income and low-income people.
Family Size: Condominiums for small, medium, and large-sized families. Or the differences between residences for those who are single vs. those who have a partner, children, etc.
Occupation: Community and Social Services workers vs. those in IT and Technical Services for computers and electronics.
Education: Newspaper, magazines, and educational websites for different levels of education. Ex. Washington Post, Forbes, Wall Street Journal.
Marital Status: Resorts that cater to single people, versus married couples and those with families.
Social Class: Wine for upper social classes and for lower social classes. Natural Light and Busch Light for the broke college student.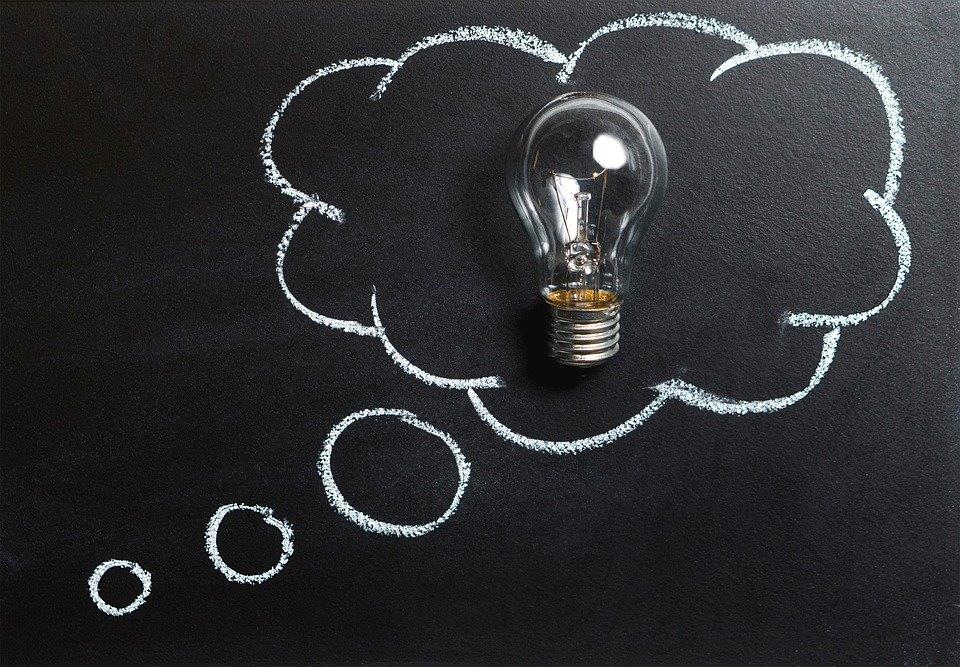 Lifestyle/Psychographics
This segmentation is defined by the lifestyle a person is living. It involves studying the personalities, feelings, thoughts, beliefs, opinions, and values of consumers. How do they spend their leisure time? What kind of hobbies do they have? What is important to them? How do they see the world?
Some examples of lifestyle traits can include:
 

Homebody

 

Art Enthusiast

 

Sports fanatic

 

Fashion conscious

 

Love for the outdoors

 

Community minded
These traits can also be identified by what a person writes in their profiles. For instance, with New Balance Chicago, it was possible target people who held relevant interests by isolating "fitness" and the "Chicago marathon".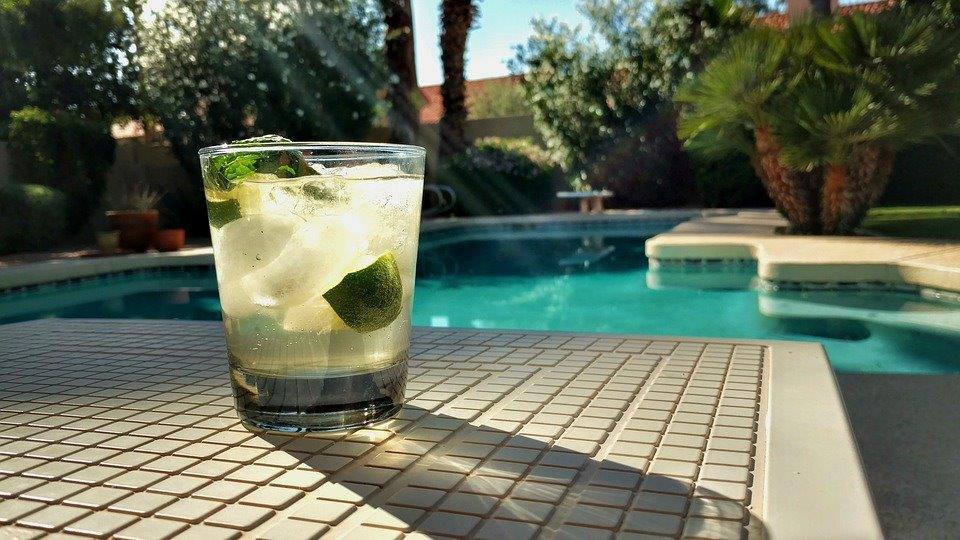 Benefit Segmentation
There is a reason behind every purchase a consumer makes. As a marketer, you need to find out what that reason is so that your marketing efforts are aligned with the motivations and priorities of your consumer.
That's what benefit segmentation is all about. What you need to ask yourself is: how does a customer benefit from buying my product or service?
For example, there are two ways you could perform benefit segmentation for the hotel market:
By Level of Service: Hotels tend to come in different price brackets depending on the level of service they offer to consumers (four star, luxury, affordable). Each of these provides guests with a different experience and benefits. A luxury hotel might offer guests a range of services they wouldn't have access to at home, while an affordable one offers them a way to save money. (Related: our analysis on how much hotels should spend on paid social.)
By Market Location: Due to the very nature of hotels, you can segment the market based on a hotel's proximity to a certain attraction or place. For instance, being located near to an airport will provide guests with a convenience benefit, while being located in a more isolated location might appeal to their desire to 'get away from the city'.

Check out this post for a deeper dive on benefit segmentation when using Facebook Ads for Hotels.
Market Segmentation in Facebook Ads Manager
The Facebook Audience Tool is incredibly powerful and a necessity for any Facebook segmentation strategy.
There is a wealth of data which can be collected from it and used to help fuel powerful future campaigns. It removes most of the guess work out of first time targeting, leading to reduced CPA, better value cost-per-click, and higher ROI.
Here's how to use it.
Geographic Using Audience Insights
Let's take Matchnode's initial New Balance Facebook ad campaign as a good springboard for this example.
We began with Facebook ads which offered discount clothes to people when the weather dropped below zero in Chicago. Obviously, they didn't want to target people in New York, or down in California, and definately not in China. They just wanted to target people in Chicago.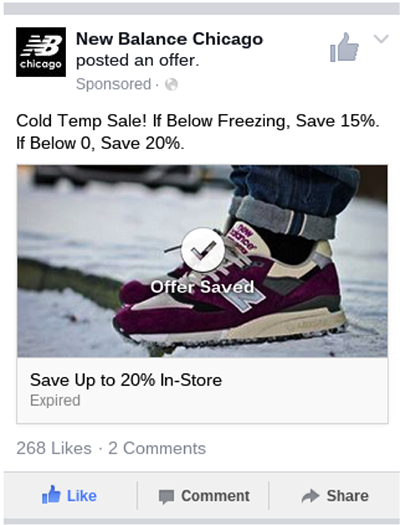 Let's say that you're setting up that campaign. Here's what you would do.
Navigate to the Audience Insight Tab within

Facebook Ads Manager

.

Of the 3 options, we want to go with Everyone on Facebook.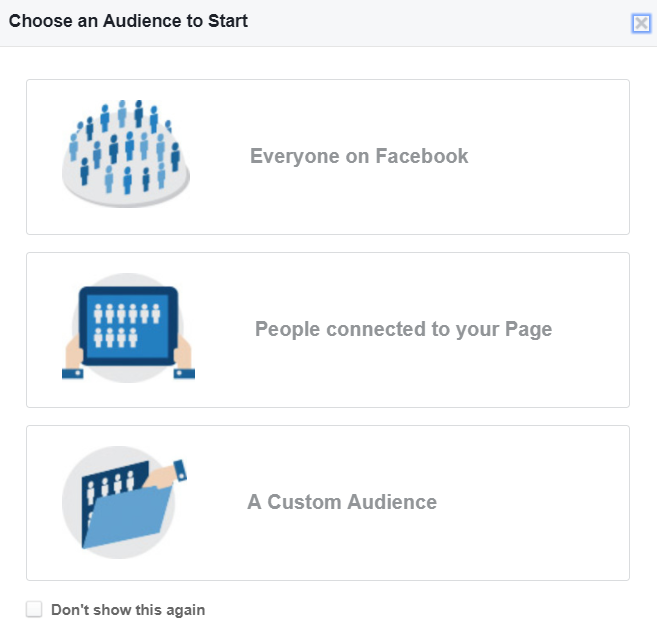 We also want to select just Chicago, so we can write Chicago, Illinois in the location section. From this, we can look at the demographic spread in that area.  We have access to location, age and gender, Lifestyle, Relationship Status, Education Level, and Job Title. We can narrow that audience down even further if we opt to use the side panel to increase definitions.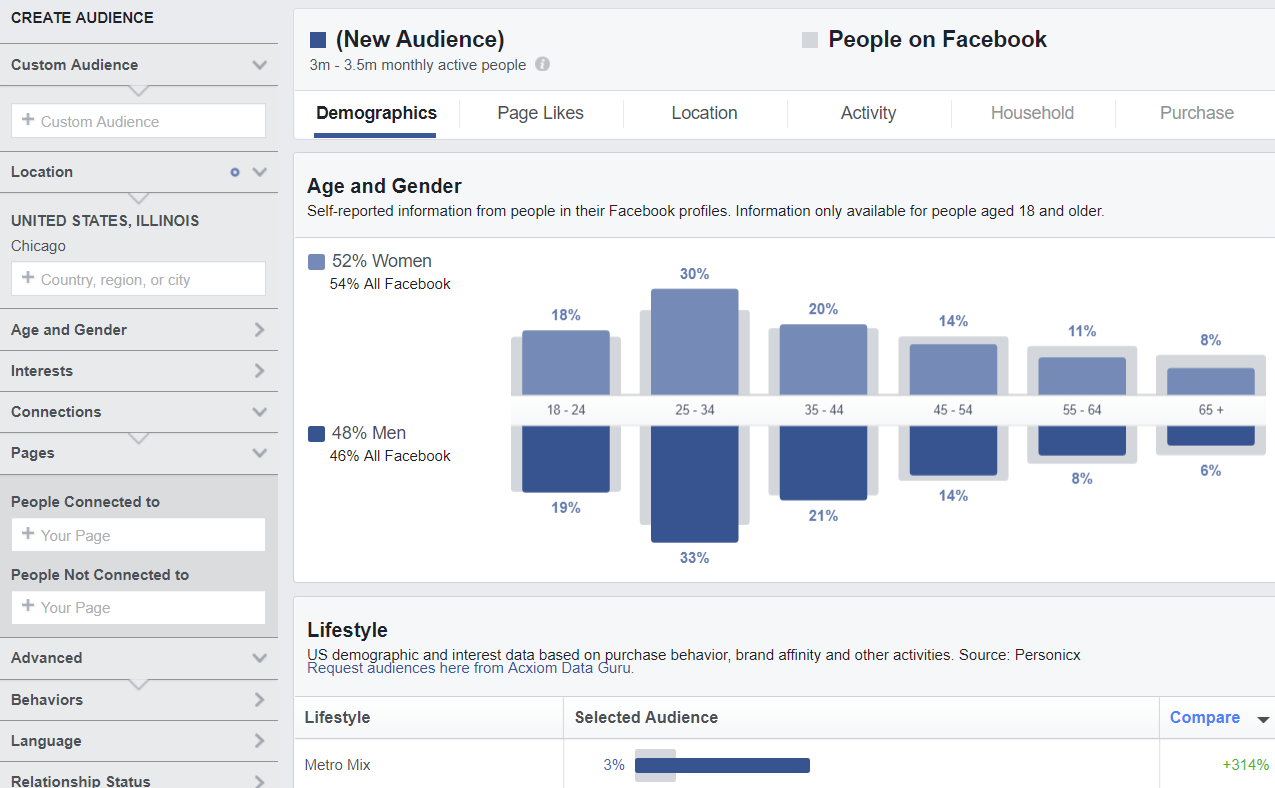 During the first New Balance Facebook targeting campaign, we targeted Chicago zip codes plus ten miles. This was effective, yet some areas in Chicago were more likely to buy from New Balance.
Over time, we were able to use data to narrow this down to specific, loyal zip codes. We then made sure to focus on targeting these zip codes more with Facebook offers.
Demographics Using Audience Insights
It's incredibly easy to target audience demographics on Facebook. They have made it very simple to narrow down different characteristics such as age and gender, lifestyle, marital status, education level, job title, and more. Simply navigate your way to the sidebar mentioned above.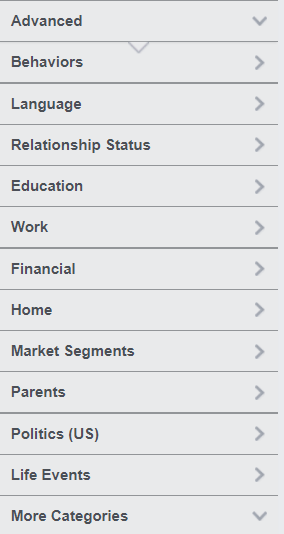 The Facebook Audience Insights tool allows you to do an advanced search where you can go through and choose from these different characteristics. You can narrow down your demographics to features such as relationship status, home (home type, home ownership, home value), or market segments such as household composition (children in home, empty nesters, young adults).
If you're in charge of the Facebook segmentation strategy for a hotel, then you might want to look at factors such as job title and hobbies to get a better grasp on what kind of guests visit your hotel. This can be combined with the 'level of service' concept mentioned above, to identify and target audiences for whom your ads are relevant. In essence, finding the right audience for Facebook income targeting.
You've also got some other options. How about collecting email addresses from past guests and uploading them to Facebook? From this, you can then use audience insights to look for similarities between audience members which we know are the audience for your hotel. We can start to draw up information on lifestyle statistics, look at the types of Facebook pages they like, and see what other parts of their lives are like.
Let's use a broader example and say we are looking to target people living in Chicago. We know the general age group we want to target (30 – 40), but we want to know more information about this group. What are they interested in?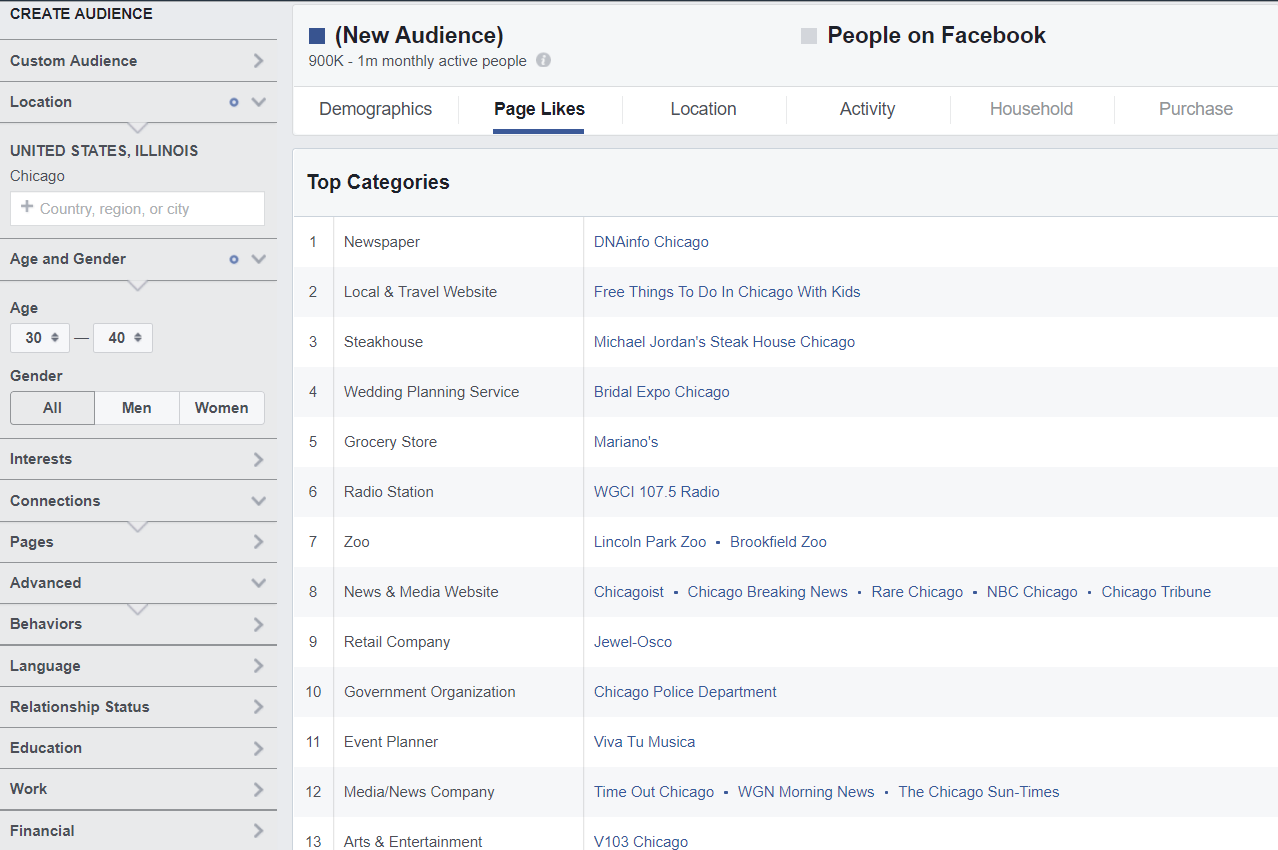 After narrowing down the audience and looking at page likes, we can see a few themes start to emerge. Children is one, local services is another, and arts and entertainment a third. There are many more, and we can narrow down the audience further if we wish. But this provides a good start to audience demographics.
Lifestyle / Psychographics Using Audience Insights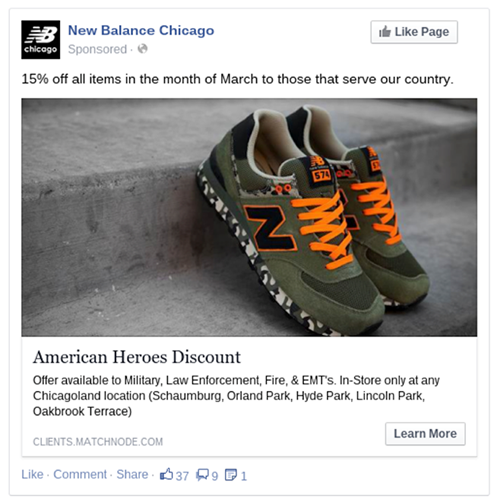 When it comes to Lifestyle / Psychographics, we're looking at building on demographics and narrowing down groups to become more specific.
Let's, again, look at the New Balance Chicago campaign. In developing segments for New Balance Chicago, we knew they have an ongoing military and servicemen discount at any of their stores. Pretty great, and we realized we could leverage this to draw in more consumers.
We did this by identifying a 'made in America' Lifestyle / Psychographics audience and then targeting these potential consumers with – for example – the ad shown here.
We can do this by simply looking to the interests section and add in 'Made in the USA'.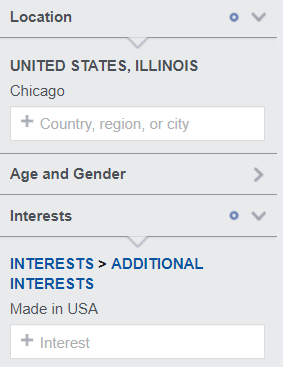 We also targeted people who were employed by US Military as well as police, fire departments, and other local law enforcement.
Benefit Segmentation Using Insights
Benefit segmentation is all about seeking out the benefits a customer will have by buying your product/service. With audience insights, you are capable of finding people who want to buy something due to the reason behind the buying decision.
A perfect example of that would be a family looking to book a vacation to travel somewhere, but only if they can find a discount for the trip. Family vacations can be quite expensive so parents may be on the lookout for some kind of offer on Groupon or similar sites. Here's an example of how you could find that perfect audience on insights.
1. Select your specific age range & Gender: Both; Age 25-50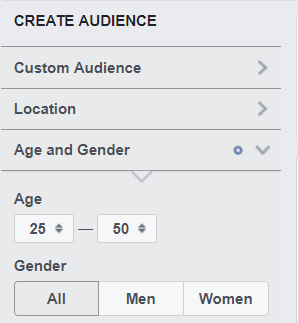 2. Additional Interest Box: Search for Groupon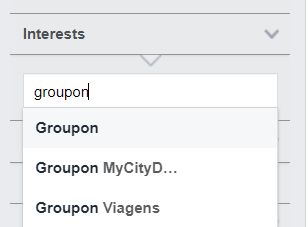 3. Advanced drop down box→ Behavior: Travel > Used Travel App (1 month); Used Travel App (2 weeks)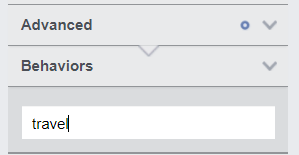 4. Advanced drop down box→Market Segment: Household Composition> Children in Home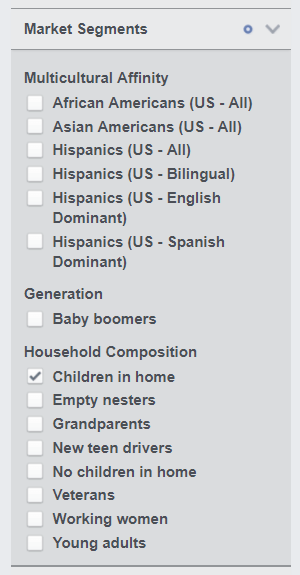 From here you have the option to look at all kinds of data such as Demographics, Page Likes (Page that this targeted audience has liked), location of where this audience is at, household information, and purchase behavior.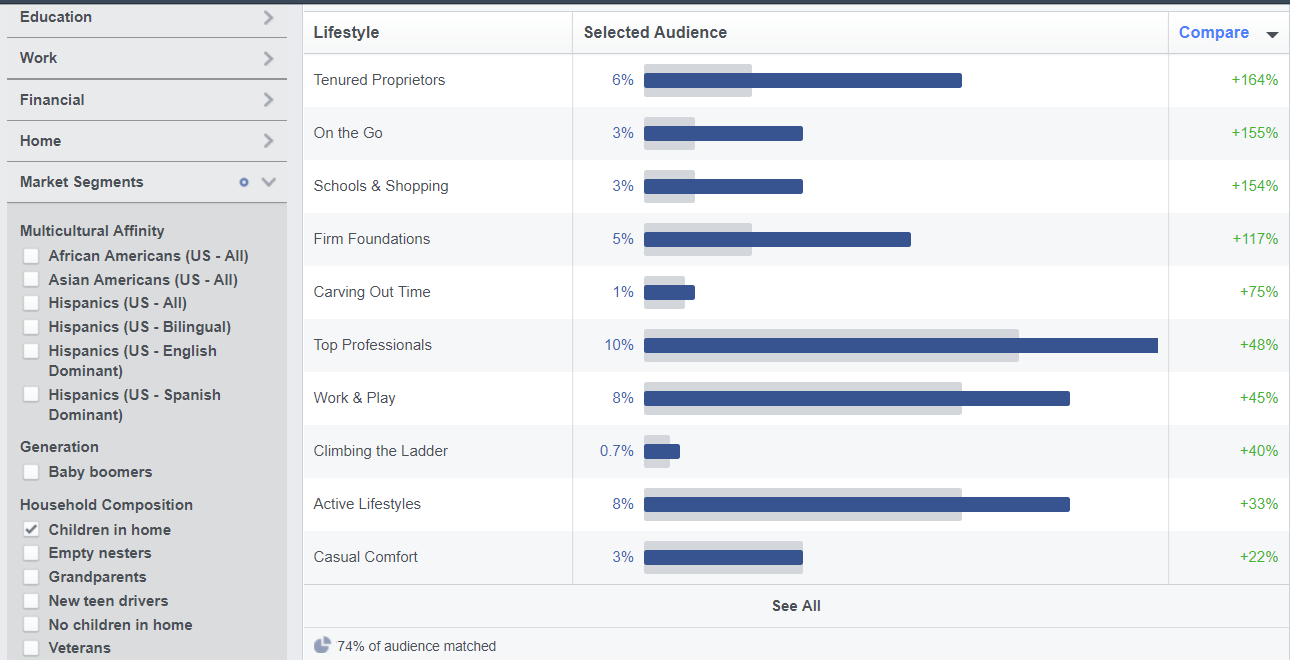 If you're in charge of a hotel's digital marketing spend in which you offer affordable packages for families, you have now identified a specific audience to direct your Facebook marketing efforts towards.
Market Segmentation Using Custom Audiences
Now that you've managed to segment and identify different audiences, you should find yourself garnering more interest and increased traffic. Yet this is only the beginning. You can further segment those website visitors using Facebook's Custom Audiences feature.
Facebook's Custom Audiences feature lets you connect with people who already have an existing relationship with your business – whether that's on Facebook, or other platforms. Collecting this data gives you the ability to create new customer segments based on customer emails, website traffic, app activity, or engagement on Facebook.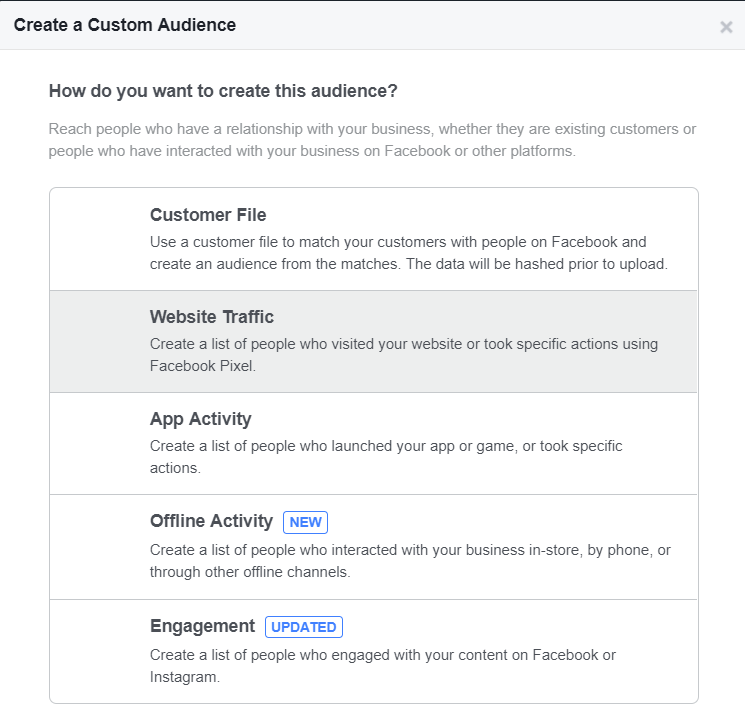 Based on Customer Files
The first option, 'Customer Files,' is great to use if you've been active in collecting data about your customers through your websites, in store, or via another method. If you're managing a hotel's digital marketing, then you will likely already have access to a lot of this information. Many hotels collect basic customer data during the booking phase.
To start analyzing this data in more depth, you're going to need to create an audience first. The easiest way is to upload a .txt or .csv and then go through it to data map whatever you can. You do this by using identifiers. There are several identifiers available, some of which you can see below.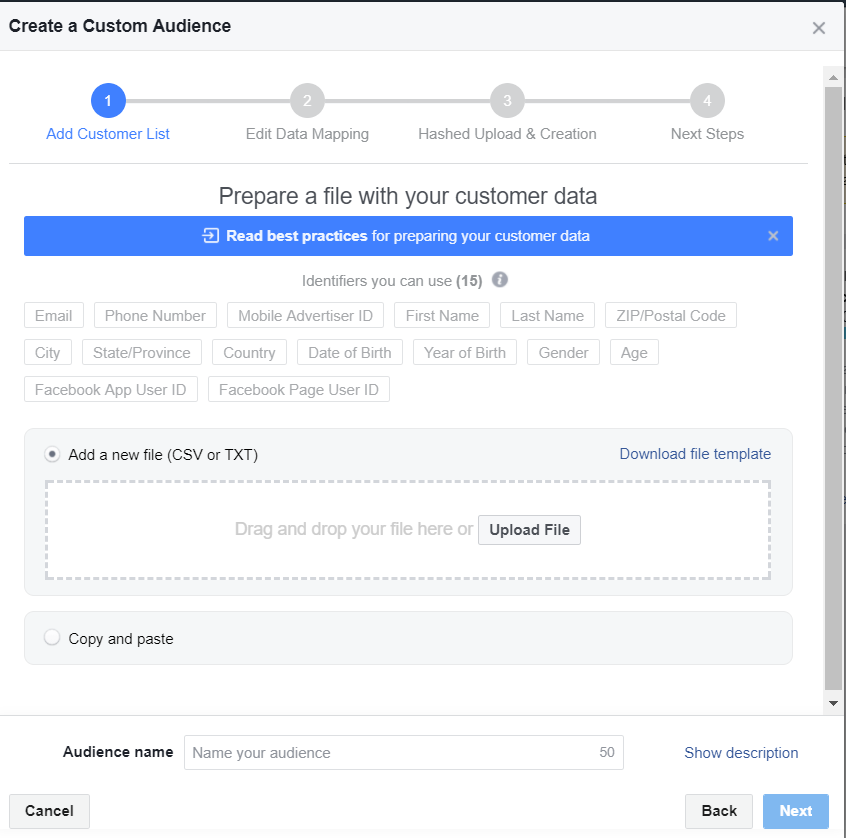 A huge benefit of this method is that leads generated this way tend to be more valuable to your business. Customers have already interacted with your business or organization, which means they are the type of people you want to target in the future.
You can even use this information to create audiences composed of your highest valued customers. Try targeting those who have visited your hotel more than one, or who are members of a rewards program you have set up. Once you've created your custom audience, you can narrow it down and examine it in the audience insights section. Try playing around with it to gain information which is specific to your business.
Facebook Audiences Based on Website Traffic
The next option for your market segmentation is to use your own website traffic. Again, this is valuable because these people have already taken time to visit your site and learn about how your offering can improve their lives.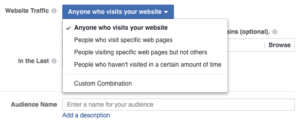 Going beyond simply retargeting your marketing to anyone who has visited your site, you can gain some great insights by clicking the drop down list as seen in the image above.
A really powerful thing to do is to target people who have visited specific pages. You can go in a lot of directions with this based on where you believe the customer is in their buying process. You can even create multiple consumer segments for different sections of your site!
One recommendation would be to create a segment based on people who have visited pricing pages or who have added a product to their cart but didn't finish the purchase. Sometimes delivering a message (or a special discount) to an audience segment of 'almost buyers' is necessary to give them a gentle nudge to finish what they started and complete their path to purchase.
Another option is to create an audience of people who haven't visited in a certain amount of time. For longer purchase cycles, it's helpful to stay on the mind of the consumer as they make their decision. So, create a segment of people who haven't visited your site in 30 days and be sure to get back in front of them.
Do this by navigating to the create audience section and including those who have visited your site in the last 90 days (or longer or shorter, if you wish) and excluding those who have visited in the last 30 days. You can change any of these numbers to fit in with your advertising goal. Just make sure to include people who meet ALL of your criteria.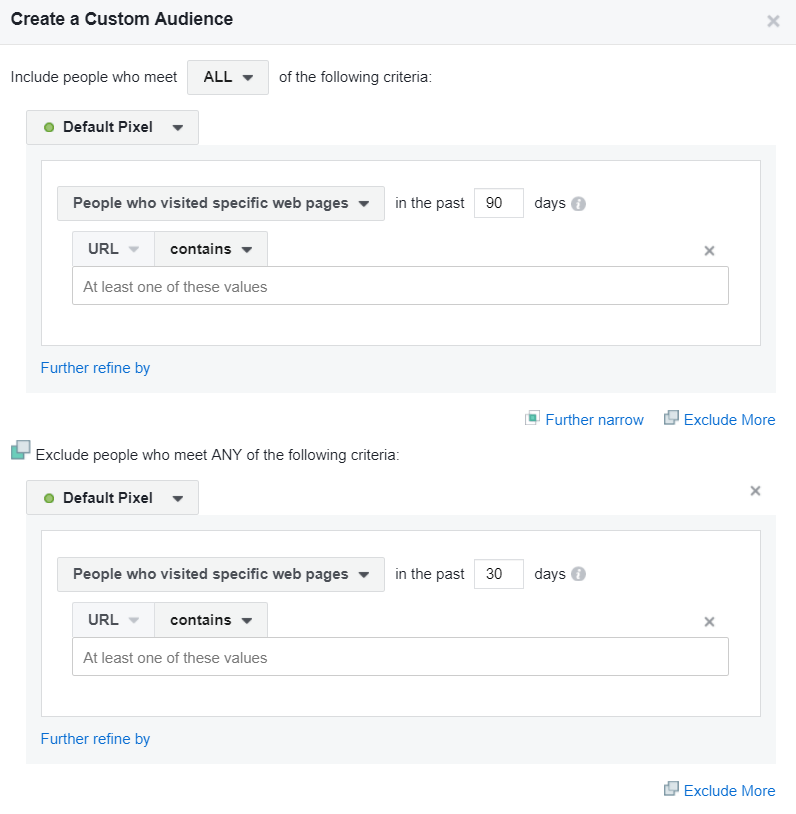 You can even narrow that figure down to just those who are in the top 25% of your website traffic. That might be number of visits or time spent on your site. Simple navigate to the custom audience section along the top left and input your definitions.

Pulled From App Activity
Similar to website traffic, you can create a new segment based on people who have taken specific actions on your app.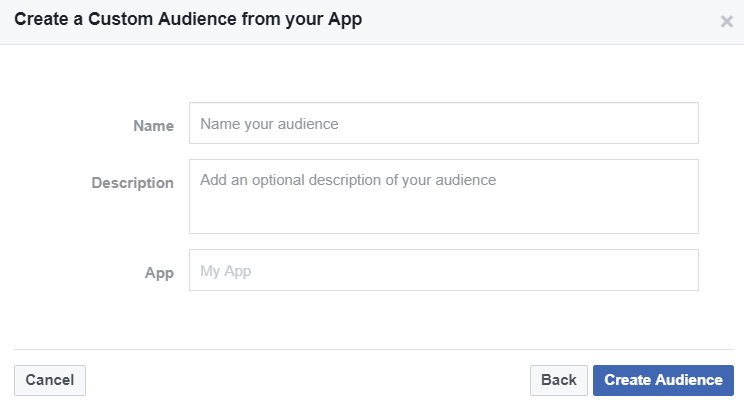 This can be used to segment your top app users, or to reach out to those who've installed the app but haven't done much yet.
Engagement on Facebook
The last option for creating Custom Audiences is to segment engagement on Facebook. This is a newer feature and a really valuable one.
This is a way to create market segmentation based directly on how users are interacting with your content on Facebook, whether it be an ad, a video, or almost any other piece of content you post.
One of our favorite ways to use this is to create an audience based on video views. But not just any views. We segment only those who have viewed 95% of the video, which indicates that they're more interested than a user who gave it a cursory view and moved onto something else after a few seconds. You have several different options when it comes to duration, which can see below.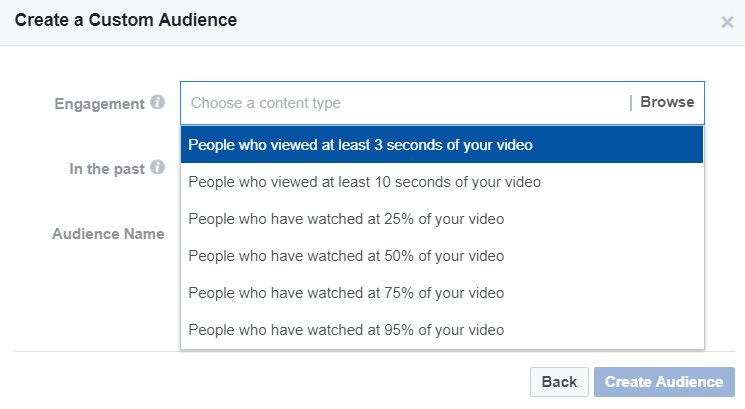 To capitalize on this, it's best to have well thought out Facebook video marketing strategies.
Lead Ads are great for finding new customers, but what about all those who open the Lead Ad but don't actually fill anything out? Well now you can create a market segment just for those people!
Facebook is always coming up with new ways to better segment your marketing, so we're very much looking forward to what else they come out with in the coming months!
Lookalike Audiences
Lookalike Audiences are relatively new to Facebook, yet they open up the playing field a little for marketers who are unsure who is actually engaging with their product or service.
Essentially, Lookalike audiences are those who we can target knowing that they are more likely to be interested in a product or service because they "lookalike" to those who have been interested before. We can know this because we base Lookalike audiences on custom audiences which have proven effective or are drawn from customer files.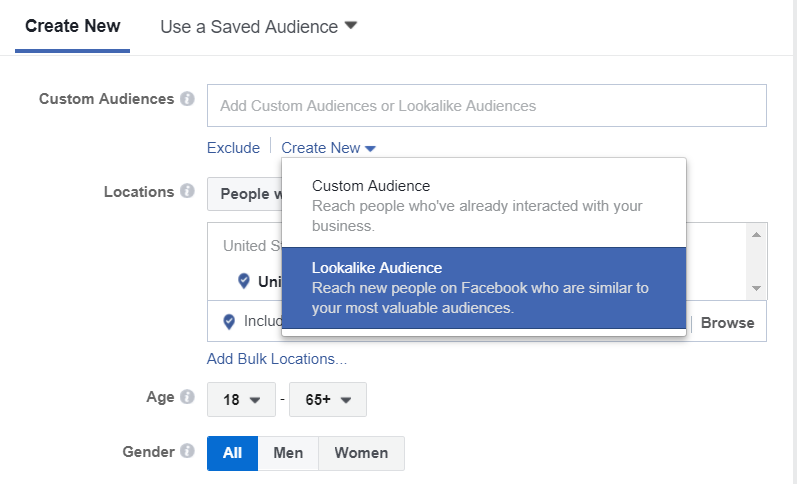 Let's use hotels as a good example here. We could narrow down our search to guests who attended a certain annual conference or event. First we create a custom audience based on the customer files we have, then we use that data to create a new group which is similar.
Great, right? You know who your audience is, and who is engaging with your products or service. Just target people who are similar to them. Audiences which 'look' like them.
The problem is, lookalike audiences don't come from nowhere. You need pre-existing data; a lot of it. This might be an email list, web traffic from the pixel, or something else.  You can start with a couple hundred people on your list, but it's usual to have a pool of data of at least 1,000 to 50,000 people. The bigger the better.
One option which is useful is the Audience Size slider. If you're looking for a more precise lookalike audience, keep this at around 1%. To increase the size of your audience, you'll have to increase the percentage, which will ultimately make your audience less similar. Try playing around with it to see what the results are.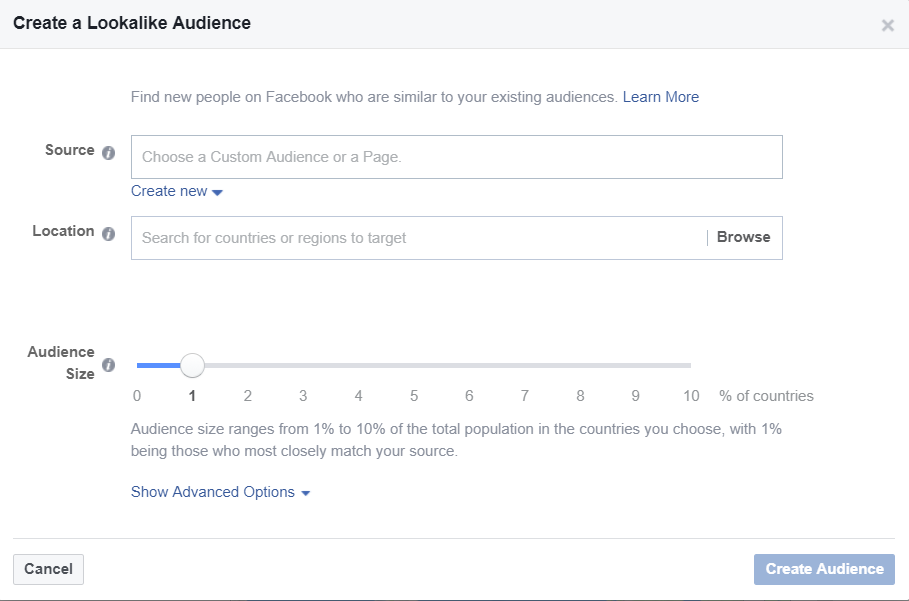 For New Balance Chicago, lookalike audiences were created based on customer emails which had been collected at stores during checkout. This meant that a list of customers who had actually purchased products was created. Matchnode then used this list to target similar potential customers. This was their lookalike audience. We also tested audiences based on people who were in the top quartile of spend at the stores over 2-3 years.
The result of this – and other Facebook segmentation targeting and positioning techniques – was that New Balance Drove 200% More Sales at Half the Cost.
Conclusion
Great market segmentation creates great results. With Facebook Insights, you don't have to try and guess who your audience is. Now, you're able to use hard data to pull together concrete conclusions. Conclusions which, when used properly, generate better ROI.
By making sure to apply a Marketing 101 concept like segmentation to cutting-edge digital techniques on Facebook, you'll ensure the creation of organized, high-performing campaigns on a much larger scale.
New Balance was just one such example of a Facebook segmentation strategy being put to good use. Hotels and almost any other industry can benefit. Don't just think inside the box either. The New Balance campaigns focus on collecting customer emails from instore was hugely beneficial. It was much better, for their particular needs than collecting emails through newsletters and online.
Finally, remember, Facebook is only one of many platforms which allow you to perform great market segmentation for your ad campaigns. While Facebook is a leader and out on the cutting edge, platforms like Twitter, Google Adwords, LinkedIn, Bing, and more are all rolling out similar audience features to help you find your selected audience & execute great campaigns.